---
PRESS RELEASE
LMA Members Gather in Nation's Capital for Annual D.C. Fly-In
September 29, 2023
Overland Park, Kansas
More than 50 Livestock Marketing Association members and staff met with senators, U.S. representatives, congressional staffers and U.S. Department of Agriculture officials Sept. 18-19, during the association's 17th D.C. Fly-In. The event offered an opportunity for livestock auction market owners to share their stories and connect with elected officials.
Throughout the visit, they advocated for Congress to pass bills to remove an antiquated prohibition and allow a livestock auction owner to own or invest in a small or medium packer.
Bracken Marburger, who operates Milano Livestock Exchange with his family in Milano, Texas, says current requirements are outdated.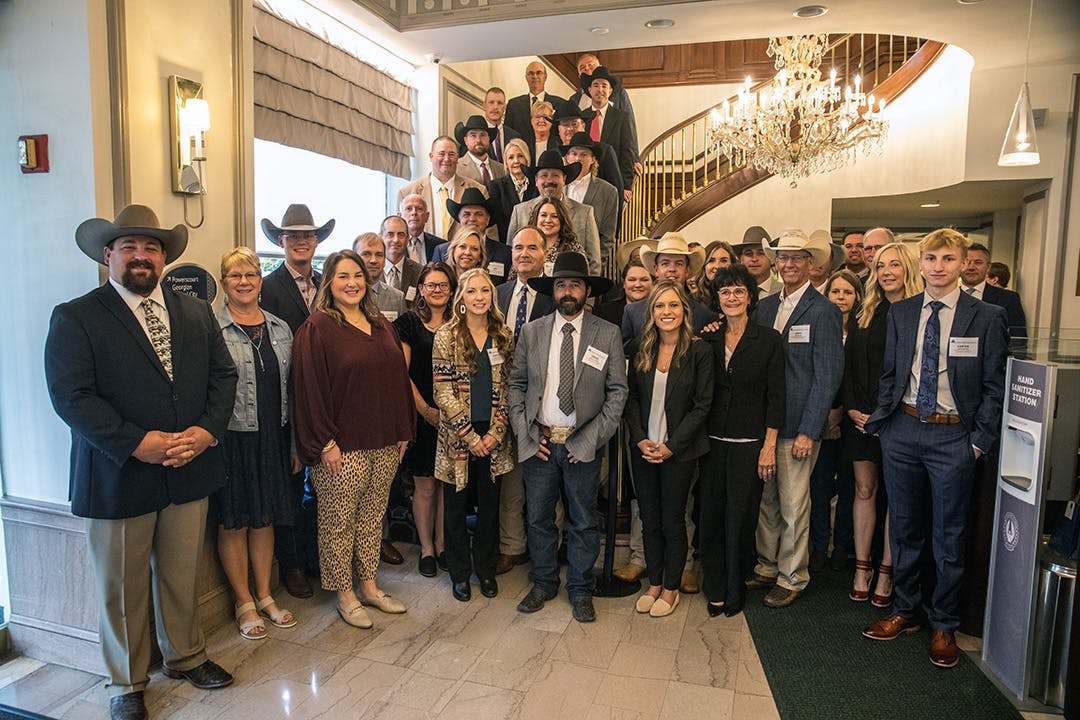 "The Packers and Stockyards Act is well over 100 years old now," he said. "And we just don't do things the same way we did back in 1921."
Bracken explained at that time, terminal stockyards received cattle from producers on railcars. Individuals acting as commission agents represented these cattle to packers. Today, livestock markets utilize a competitive auction method. Auction markets provide an open and public forum for producers to sell their animals to the highest bidder, allowing for competition and true price discovery. Many of the auctions are also streamed online. 
Association members say Congress and the cattle industry agree the U.S. beef packing capacity needs to be increased, ideally by adding new competitors to the marketplace. But the rule prohibits livestock auction owners from owning or investing in meat packing businesses.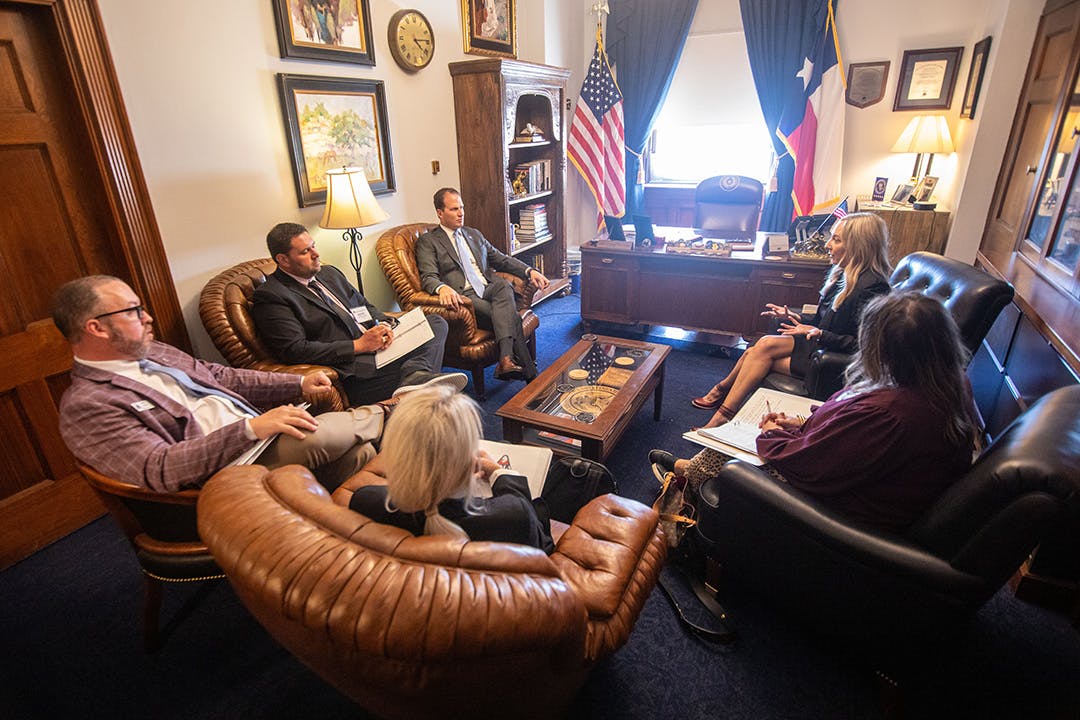 That's why Livestock Marketing Association is advocating for the passage of the Amplifying Processing of Livestock in the United States, or A-PLUS Act, H.R. 530, and its Senate companion, Expanding Local Meat Processing Act, S. 813, to address the regulation. They say these bills would allow markets to invest in small and regional packing facilities, providing an avenue to increase packing competition and capacity. At the same time, the bills maintain necessary safeguards by prohibiting the largest packers from owning auctions.
Members also urged Congress to update Packers and Stockyards Act prompt payment requirements due to slowing mail service and a desire to incentivize electronic payment as the more efficient method.
Mark Barnett, Livestock Marketing Association president, said it was a productive trip and he's grateful for all who took part.
"I know firsthand how difficult it can be to take time away from your business and family and travel across the country," he said. "But the impact a visit like this has on the industry is substantial. Only by developing and maintaining these relationships can we be sure the interests of livestock marketers are considered in federal policy decisions."
Members who participated in the fly-in were Joe and Barb Nelson, Minnesota and Iowa; Austin Schaben, Iowa; Cale and Nicole James, Oklahoma; Scott and LeDona McCornack, Oklahoma; Blaine and Haley Ragan, Oklahoma; Ben and Aimee Hale, Oklahoma, Texas and Iowa; Bracken and Stephanie Marburger, Texas; Jayde Baumeister, Texas; Mandy Geistweidt, Texas; Jim Akers, Kentucky; Steve Sterchi, Kentucky; Jennifer and Mark Houston, Tennessee; Mark and Betty Barnett, Kentucky and Tennessee; Jacob Massey, Tennessee; Chad Fleenor, Tennessee; Michael and Carter Simpson, Tennessee; Rich and Alicia Robertson, Nebraska; Wesley Kilmurry, Nebraska; Kirk Otte, Nebraska; Erin Zoucha, Nebraska; Mike VanMaanen, Missouri; David and Heidi McComb, Kansas and Oklahoma; Mason Winter, Kansas; Justin and Cody Tupper, South Dakota; Nicholas Hayes, South Dakota; Larry and Judi Schnell, North Dakota; Katelyn Chaffee, North Dakota and Montana; Daniel O'Donnell, North Dakota and Montana; Lander Nicodemus, Wyoming; Jake Parnell, California; Michael Imbrogno, California; Alisha Hudson-Roach, Virginia; and Brian Glick, Pennsylvania.
---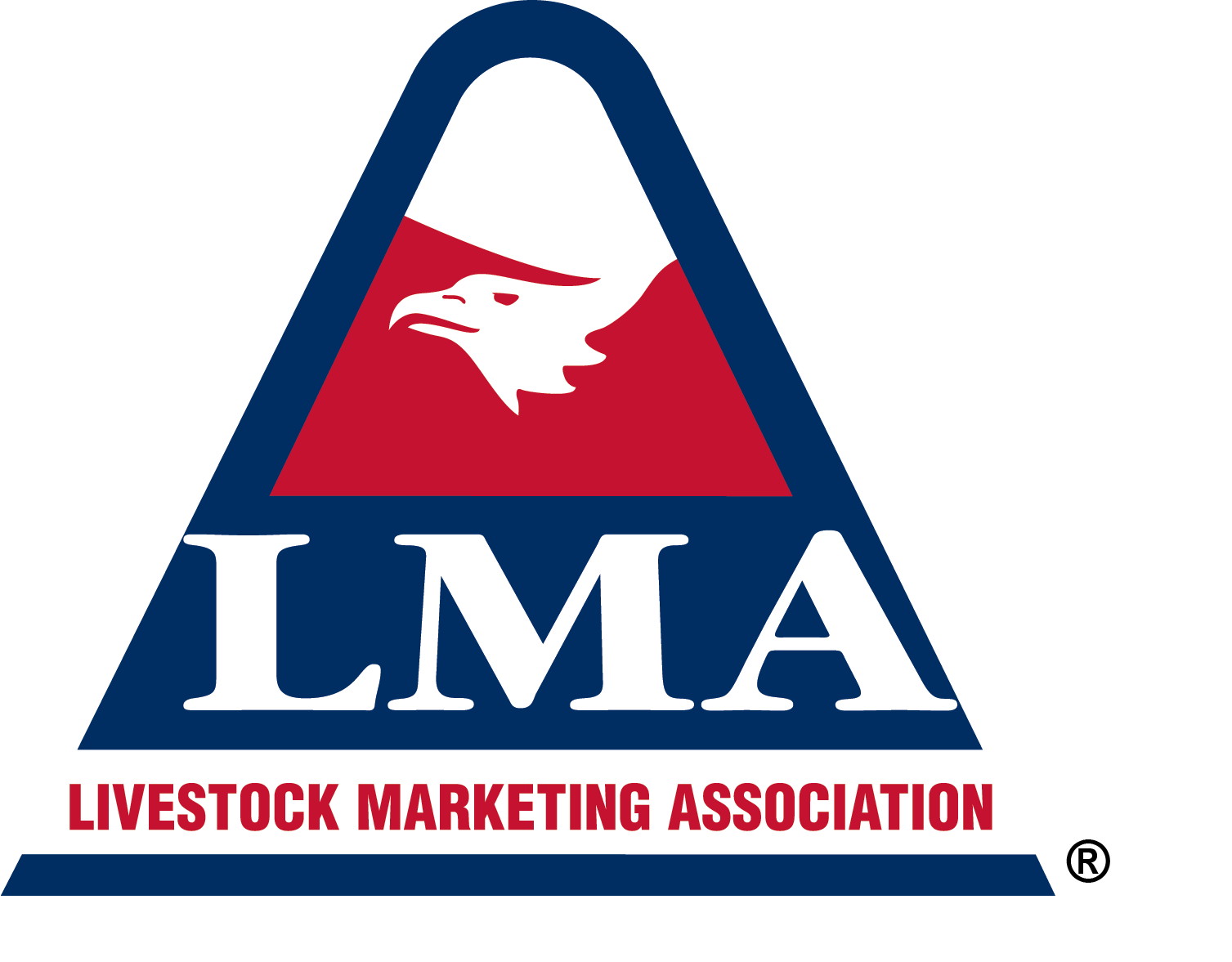 About the Livestock Marketing Association
The Livestock Marketing Association (LMA), headquartered in Overland Park, Kan., is North America's leading, national trade association dedicated to serving its members in the open and competitive auction method of marketing livestock. Founded in 1947, LMA has more than 800 member businesses across the U.S. and Canada and remains invested in both the livestock and livestock marketing industries through member support, education programs, policy representation and communication efforts.
---