Things to Do in Punta Gorda, Florida
Outside of convention and our pre-scheduled tours, we realize families may want to check out the Punta Gorda area a little more. Below are a few suggestions for those wanting to explore!
Beaches
Englewood Beach
This pristine beach offers white sand, sparkling Gulf waters, and spectacular sunset views year-round. Beach necessities (chairs, umbrellas, etc.) available via on-site vendor "The Beach Guy." Beach wheelchairs are available free of charge, on a help-yourself basis, 7 days a week, from 7:30 a.m. to 3:30 p.m. *Note: Chairs must be returned by 3:30 p.m. to be locked up for the night.
Amenities include a 900-foot boardwalk with three covered lookouts, accessible parking and restroom facilities, showers, water stations, volleyball courts, basketball court, horseshoe pits, playground area, four small shelters with picnic table and grill, and three large pavilions, all of which contain picnic tables and charcoal grills. The pavilions are available to rent for birthday parties, family reunions, corporate parties, large picnics, and other special events.
Parking is .75¢ per hour, payable via the Park Mobile app or with a Charlotte County Parking Pass. Located about 27 miles from the Charlotte Harbor Convention Center.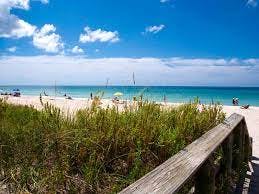 Boca Grande Beach
Boca Grande beaches offer island visitors some of the most beautiful scenery in all of Florida.  From public beaches with parking and restroom facilities to smaller more "off the beaten path" access beaches, you can find just the right Boca Grande beach for you. There are 14 Gulf of Mexico side beach locations, some as small as an overgrown walking path.
Located about 31 miles from the Charlotte Harbor Convention Center.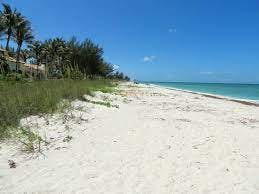 Venice Beach
Venice Beach provides a scenic view of the Venice Public Fishing Pier and many opportunities to see dolphins and shorebirds. The beaches along Venice are home to a large number of marine turtle nests between the months of May and October.
Amenities include free parking, lifeguards, food concession, shelter, two sand volleyball courts, picnic area and boardwalks. Additional parking is available across the street to the north at Graser Park at the intersection of Barcelona Avenue and Apalachicola Road near The Esplanade. SCAT bus service is available.
Located about 37 miles from the Charlotte Harbor Convention Center.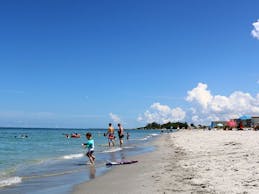 Siesta Key Beach
Ranked the #2 Beach in the U.S. in 2023 by TripAdvisor's Traveler's Choice Awards™, you will quickly understand why when you feel the quartz-crystal powdery sand between your toes, and experience the soft waves and the abundance of sun & fun at gorgeous Siesta Beach.
Thanks to the large parking area, concession stands, the free trolley to get around on the island, and nearby fun Siesta Key Village, you can plan your whole trip centered around this gorgeous Key without getting bored.
Located about 49 miles from the Charlotte Harbor Convention Center.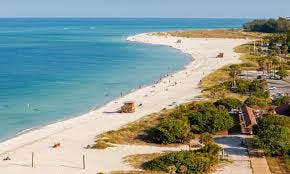 ** Before planning a trip to any of the recommended beaches above, please be award that the Gulf side of Florida is experiencing "red tide". A red tide, or harmful algal bloom, is a higher-than-normal concentration of a microscopic algea (plant-like organism). This can have effects on both humans and marine wildlife.
Helpful links on the status of the red tide can be found below.