---
ARTICLE
Living the Dream- Gulf Coast Livestock Auction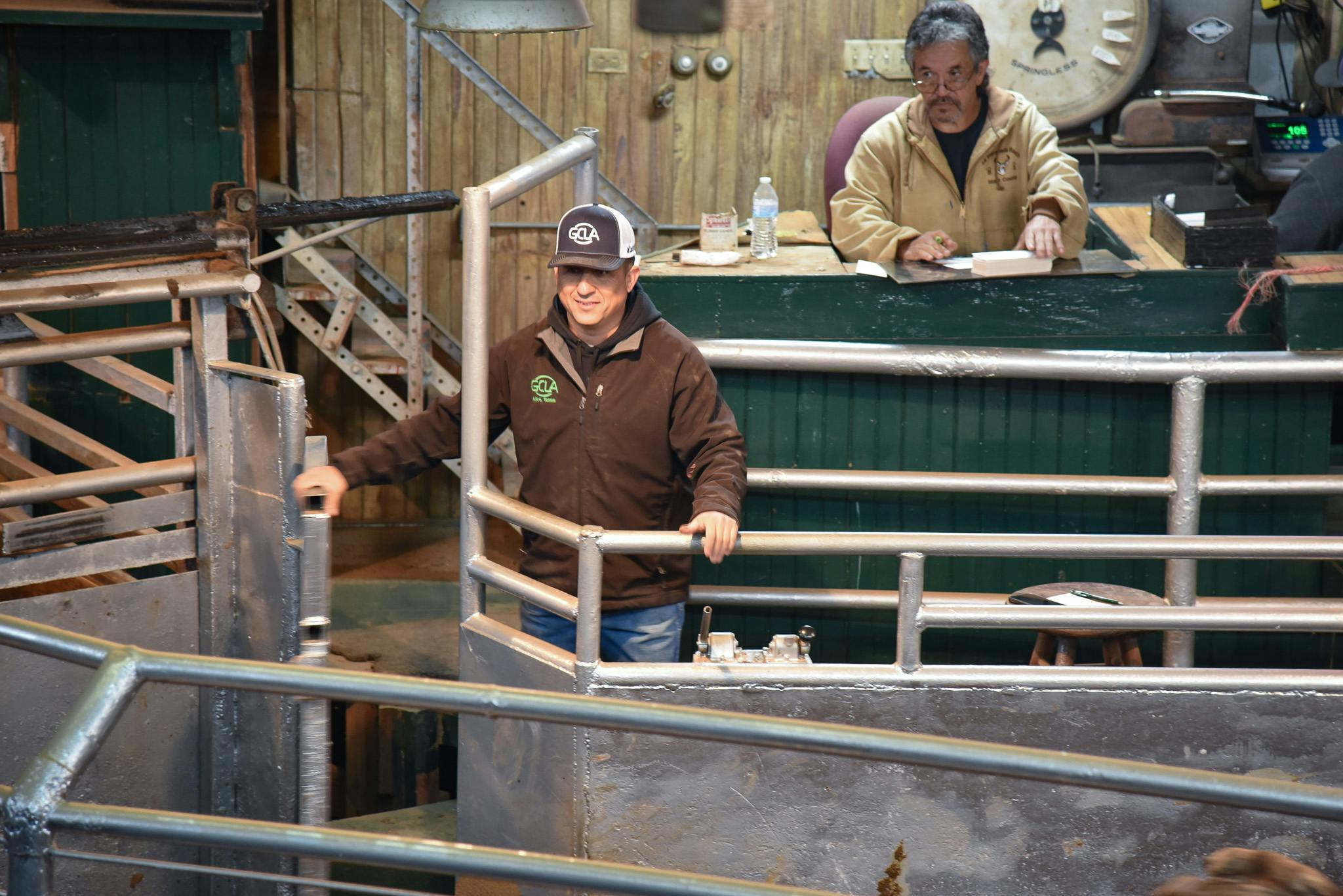 Eddie Garcia, owner of Gulf Coast Livestock Auction, smiles at one of his customers while he runs the ring on sale day.
Growing up, we all have lofty aspirations, built on the foundation of passions and goals. They inspire us to work harder, learn, grow and eventually, those dreams turn into reality. For the past seven years, Eddie Garcia has been living his lifelong dream through his role as the owner of Gulf Coast Livestock Auction (GCLA) in Alice, Texas.  
The Garcia family originally moved to southern Texas after being awarded a Spanish Land Grant in the early 1800s, but quickly established roots in their community and surrounding areas through the introduction of Indu-Brazilian cattle. Located in Encino, Texas, the family was instrumental in bringing the first Brazilian bulls across from Mexico in 1946. Eventually, Eddie's family transitioned into another sector of the livestock industry where he was initially introduced to the livestock marketing sector. 
As a sixth-generation cattleman, Eddie worked under his father, Esteban Garcia III. Together, they visited livestock markets in their area, purchasing cattle that were shipped to Mexico. Eventually, Eddie furthered his background with livestock auctions while managing the barn in Rio Grande and working closely with David Shelton the owner of Gulf Coast Livestock Market, now known as GCLA. 
By working in a variety of positions, Eddie learned all aspects of running a livestock auction, and eventually, purchased GCLA along with his father in May 2015, fulfilling his dream of being an auction owner. 
"My dad always says, 'If we're not growing, we're getting smaller,' so this was a way for me to use everything that I had learned over the years from my family," Eddie said. "I really didn't realize that all the small things I was doing were preparing me for what I'm doing now." 
GCLA sign that welcomes buyers and sellers.
Today, you will find Eddie greeting customers, running the ring or in the alleys and pens in the back with his employees – all things he saw other livestock auction market owners do in his early years. To be part of the group of men that inspired him growing up, Eddie feels honored and obligated to run his livestock auction to the best of his abilities. 
"There's only so many auction barn owners in Texas," Eddie said. "For me to be part of a group of men I admire and respect that much, to be one of the youngest ones, to be one of the only Hispanic ones, you know, that carries some weight." 
Running an auction requires many behind-the-scenes efforts. According to Eddie, it is knowing how to converse with buyers and sellers, start the cattle and inform his customers about things happening in the industry. A value he strives to continue at GCLA is accountability, with business being conducted one handshake at a time. This value eventually shaped his business motto: "See you at the gate!" 
"I try to spend as much time as possible opening the front gate to greet everyone. I have great staff that helps with the other tasks so that I can talk with the owners, tell them what the cattle look like, be frank with him, tell him where he needs to improve and tell him what he's doing good," Eddie said. "That gives me a very hands-on approach to that aspect of my business, and I think it's served me well. Now, after seven years, maybe I don't have to unload every gooseneck, but if there's 10 in line, they're all going to get a handshake from me." 
Outside of the services provided on sale day, Eddie also offers a free herd assessment, applying his knowledge of livestock to help others be successful in the business. He steps into a teaching position at times to help producers create the best quality possible to benefit both the producer and auction. Eddie views the marketing industry as a business built on relationships.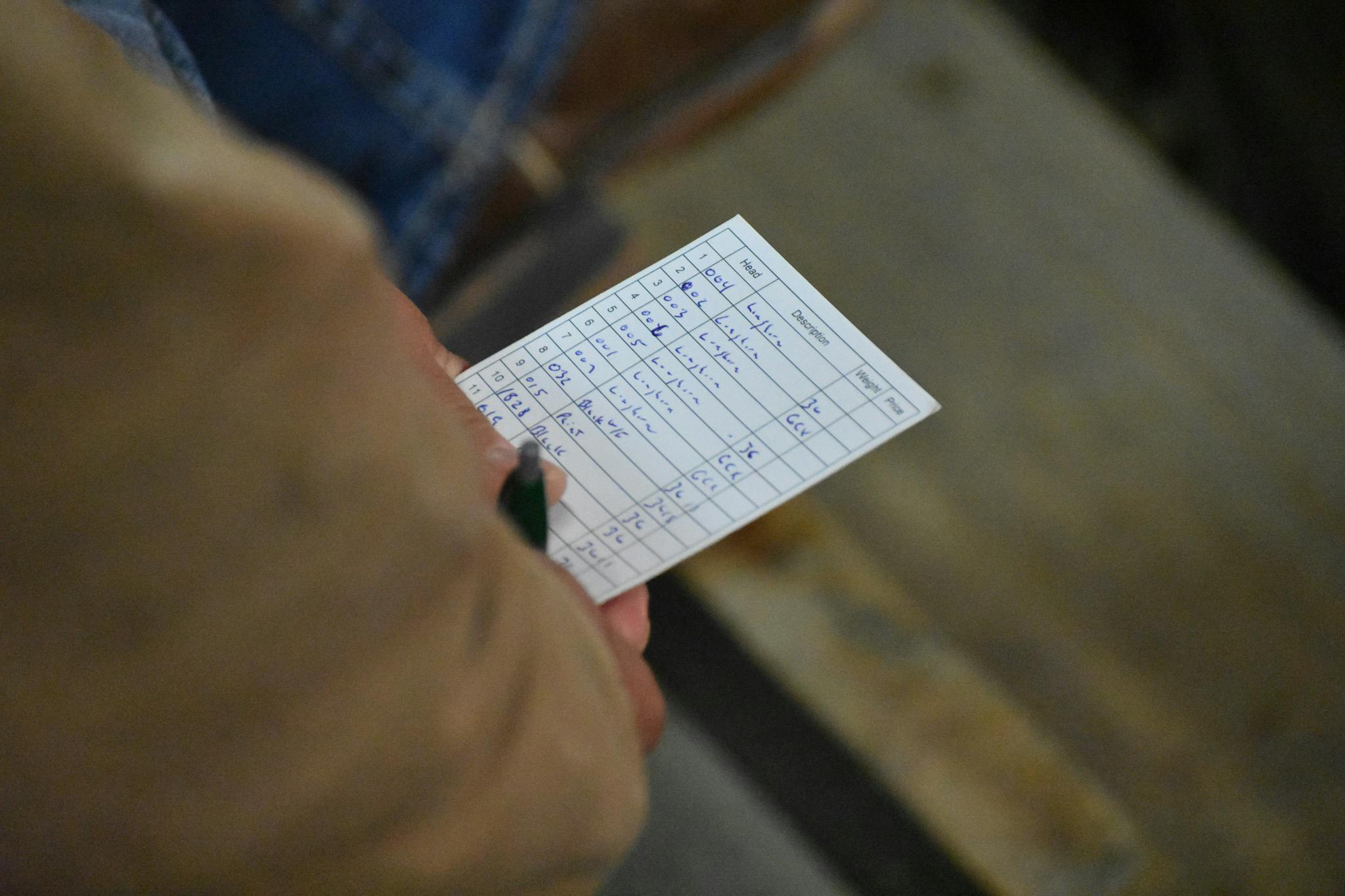 A buyer at GCLA keeps a bidding card in hand to write down his purchases of the day.
"I cannot guarantee the market, but I can guarantee effort," Eddie said. "And as long as I can guarantee you the effort, everything that I've learned, everything I'm about, every fiber of my being, I'm willing to give that to you. I'm willing to be away from my family. I'm able to make whatever sacrifice I can possibly, humanly, make to make sure that you have a good experience here, to make sure that your cattle are well represented and make sure that I'm trying to get you as much money for your cattle as humanly possible." 
The driving force behind Eddie's passion for running a livestock auction is his family, consisting of his wife, Amanda, and their four children. With approximately 90 miles between his family and the auction, Eddie spends part of his week at the market, and the other with his family. He shared how it would not be possible without his wife's support. 
"You've always heard the phrase 'Behind every good man is a great woman,' and that couldn't be truer in my life," Eddie said. My wife is very instrumental in allowing me to live my dream. The time I spend away from my family starts to weigh on you because the sacrifices that they make are for the greater good of the family. I would like to think that I inspire them because they know how much I put into it. I've taught them to understand that anything is possible." 
There are many things that Eddie enjoys about the marketing industry, but the overall sense of family is what he loves most.  
"What I love about the auction barn business is the collective feeling of family, and when it gets hard, the employees are right there with you," Eddie said. "I do get in their hair a little bit, and they do push back sometimes, but that's just nature of the business." 
Despite the time away from his family and the challenges livestock auction owners face, Eddie is always reminding himself of the opportunity and career path that has been laid before him. 
"We're so fortunate to be in this business," Eddie said. "We all wake up in the morning and get to go to work and love what we do. I mean, there's just no better paycheck than that." 
---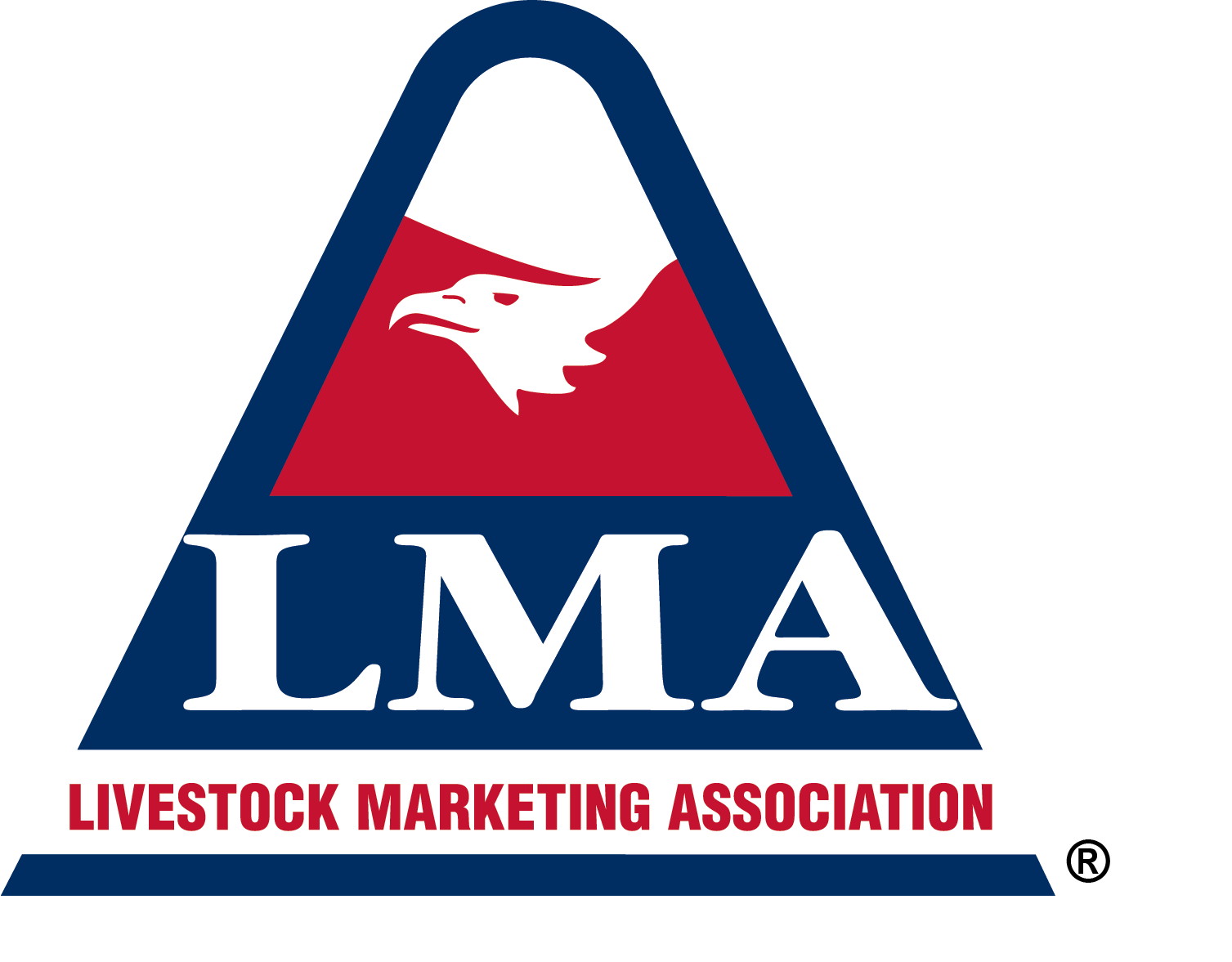 About the Livestock Marketing Association
The Livestock Marketing Association (LMA), headquartered in Overland Park, Kan., is North America's leading, national trade association dedicated to serving its members in the open and competitive auction method of marketing livestock. Founded in 1947, LMA has more than 800 member businesses across the U.S. and Canada and remains invested in both the livestock and livestock marketing industries through member support, education programs, policy representation and communication efforts.
---